Public DGS Corpus
Welcome to the Public DGS Corpus!
On the two websites presenting the Public DGS Corpus, we have published more than 50 hours of German Sign Language video material taken from the DGS corpus. You can watch DGS videos covering not only a variety of topics but also presenting signers from various regions and different age groups. These videos have been selected from approximately 560 hours of conversations and narrations held in DGS with an emphasis on topics culturally relevant to the deaf/Deaf community (more than 47 hours).
There are two different portals: MY DGS and MY DGS – Annotated
MY DGS

to the website
My DGS - Annotated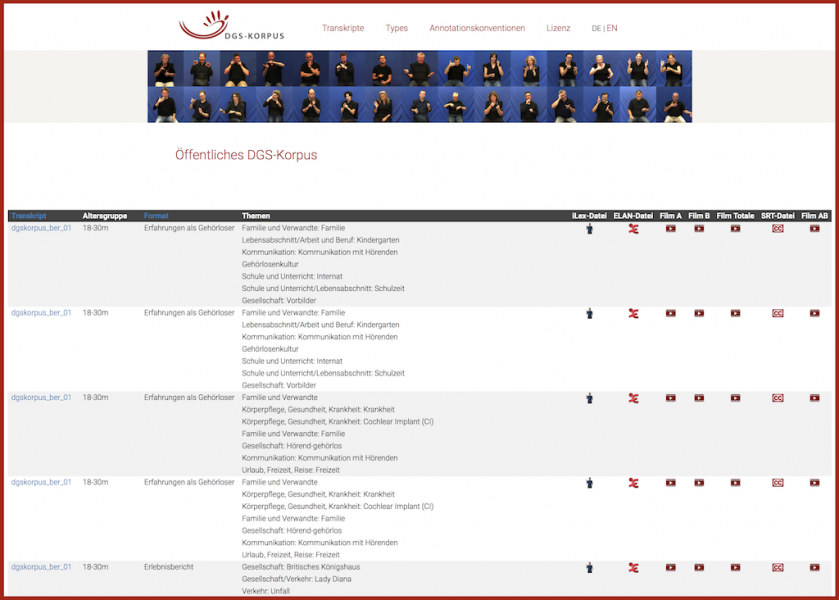 To the website
MY DGS is made for the signing community (such as deaf/Deaf people, interpreters, educators and teachers, parents and other people with an interest in German Sign Language). It offers DGS video material that comes with German translations (subtitles) which can be switched on and off as required. There also is an additional collection of sign language jokes (about 2.5 hours in total) available to you.
MY DGS - annotated addresses researchers working in the field of sign language linguistics and people who are interested in and focused on German Sign Language, the signing community and deaf/Deaf culture from a scientific perspective. In addition to the videos available on MY DGS, the portal offers further video material that shows the diversity of tasks employed in the elicitation of data (e.g. story re-telling and narrations, conversations on the topic of traffic signs, arranging of appointments, descriptions of operational sequences and course of action, giving directions; more than 100 min in total). NEW: Release 4 will bring 4 more retellings (7 min) and 18 sequence descriptions (53 min, translated only).
All videos, with the exception of the jokes, are annotated and can be opened and browsed as online transcripts. The annotation includes translations, glosses and mouthings. Furthermore, videos and annotation files – including translations – can be downloaded. With the exception of annotated mouthings (only available in German), this website as well as all written texts are available in German and English.
And since July 2022 a third portal: MY DGS – ANNIS
MY DGS – ANNIS has been added

in July 202

2

as a third portal of the Public DGS Corpus. It c
ontains all videos which have been translated and are annotated with glosses (49 hours).

This means that the DGS data can now be accessed through the ANNIS

corpus tool. This portal is particularly intended for researchers in linguistics and corpus linguistics.
The language of the portal is English. It is possible to search the
annotations of the Public DGS Corpus in German and/or English, and to watch the relevant video
segments. In contrast to
MY DGS – annotated
, it is possible to create complex search queries. For
example, you can search for
signs (by way of GLOSSES) and mouthings or words in the translations

signs which appear near another sign

elements of sign forms

signs in combination with metadata, e.g. age range or region
For these search options there are numerous example queries with a detailed description of the search functions, which can be used as a template for your own queries. The results of the queries can be sorted by frequency and exported. They can also be sent as a link in order to share queries and results. Presentation slides for MY DGS – ANNIS (in German) can be found here.
Access to all portals is free of charge, registration is not required.
Have fun watching!