4th Workshop on the Representation and Processing of Sign Languages:
Corpora and Sign Language Technologies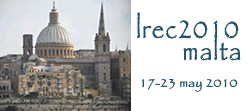 AUTHOR'S KIT
Please follow the instructions on the LREC pages with the following two exceptions:
On the LREC pages, you will also find
Latex and Word template documents
.
In addition to the paper, we ask you to provide an unformatted abstract (.txt or similar) to be used for a book of abstracts. So this text may be the same as the abstract in your paper, or you may decide to provide a longer version.
For uploading your documents, please use the login data provided in your notification of acceptance.