MUDRA SIGN ANALYZER (MSA) - A Database/ Processing Tool for the Project MUDRA
Data Design, Technical Supervision: Kurt Hennrich, MA - Production: Markus Fischer, Fischerfilm
Introduction
MUDRA, a multi media dictionary and package of different user-applications for learners of sign languages, preliminarily for learners of Austrian Sign Language (OeGS) is to be described seperately. An illustrated description of the Beta version MUDRA is available at www.fischerfilm.com/fifi/mudra-e/.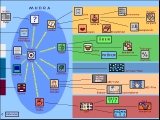 The MSA has been created merely for research and SL analyses, to gather and store linguistic and technical data required for MUDRA: A tool used to survey and describe signs and sign phrases in sign languages; for collecting, comparing, selecting and editing various informations about signs, to be then processed and implemented into the actual MUDRA databases, which are again of a different data format than the data in the MSA.
This has to be mentioned, since many of the listed fields and functions in the different modules/subdatabases of the MSA serve rather technical than only lexicographic purposes related to the job of transferring data into MUDRA.
The current MSA is a relational database system made with FileMaker Pro 3.0.
The version described here is the MSA 3.0, which is under construction now, as we are going to use it for the work on MUDRA 1.0, the first final version of MUDRA. The screenshots are some of the former MSA 2.0, which we were using in our work on the Beta version of MUDRA, since the MSA 3.0 is not finalized at this state of the project, particularly not its layout and interfaces. These interfaces and additional field-relations will have to be updated in this site, as soon as they are set ready.
The MSA as a tool is bound to undergo changes, extensions and upgrades while being used, as the ongoing work continuously brings up new requirements and demands with respect to fields, categories and the way they are linked and related to each other. As soon as a change is indicated, the work with the particular module pauses for the time of the upgrading intervention.
The necessity to stay flexible for these changes was one of the most obvious experiences in the first two phases of the project.
Fields which can be assumed as obvious in their function through their name remain undescribed here.
Structure and Description of the MSA
The input fields of each record are structured in sections:
sign ID characters / label (internal technical codes)
representation and description of the sign
meaning, use, part of speech of the sign, etymology
links to variants; links to examples (corpus or signed sentence);
phonological parameters of the sign
sessions (log of recordings and discussions among deaf on the recorded signs)
informants/participants of sessions
unspecified work remarks
The field "work remarks" is unspecified and serves like an email-conference: Every person collaborating on the DB and on the linguistic and editorial works can post personal remarks and state opinions about any aspect of the sign and the referring data, suggestions, review, questions arising, or just remarks not matching any of the other fields, for further review and processing.
The MSA consists of the following databases:
According to the graphic environment possibilities of FileMaker Pro, the operation panels are designed with buttons for the usual operation commands as to scroll, mark, sort, choose, etc., various multiple choice fields (pull-down and pop-up menus) and checkbox fields as an input aid for recurring data inputs.
Specific technical fields, particularly those that do not show up in the surface of the tool, are listed in angular brackets and serve no linguistic purpose. The data in many of those fields serve computations (e.g. in operations of exporting, importing or processing data for transfer into Mudra) and aren't even saved when closing the application.
All phonological parameter fields and their pop-up-charts are designed as icons in the choice menues and in the display fields, along with their terms.
The modules and their fields
Mudra_DB(00):
The main screen refers to this module. It contains frequently used linguistic and editorial fields and leads to the other modules.
creation date of record
creation time of record
record created by...(name)
date of last modification
time of last modification
last modification by...(name)
record number
[video path]
date of film recording
MUDRA CD (ID of medium of movie)
sign language
sign number
informant name
dialect of informant (allocation)
Although dialect regions do not straightly concur with political regions in Austria, one and the same list of stimulator glosses is applied for recording sessions with at least three informants of each of the nine federal states. That makes around 27 informants, preferably of deaf parents, born and risen in the respective region.
equaling dialects (true for further dialects...)
apparent primary variant yes/no
session ID
valuation code_1
valuation code_2
valuation code_3
valuation code_4
valuation code_5
valuation code_6
The valuation codes refer to those sessions which deal with the deaf participant's assessments on various questions about the sign, as relevance, frequency, importance, truth of performance represented in the movie...
stimulator gloss...
A gloss in a word-prompt recording session, that originally stimulated the informant to perform the respective sign, independently from any other contextual meanings or glosses that turn out to be true for that sign in any subsequent sessions of evaluation.
gloss master (corrected or confirmed gloss)
[gloss ID]
[sign number MUDRA storage path]
The code consisting of the ID of medium (e.g. CD number) and the hierarchy in which the movie is filed.
meanings
further meanings in spoken language
sign homonyms
(Depending on how the mouthing is considered to distinguish meaning).
handshape(s)
Possible handshapes of the dominating hand are displayed as graphic images in the MUDRA dictionary mainscreen, apart from a separate display of various phonological parameters.
handshape(s) / link logic
The displayed handshapes (up to four) are related to each other in three possible kinds: "becomes" (if the handshape changes during the performance of the sign), "and" (handshapes of further signs in a composite sign), "or" (if the dominant hand of the sign allows more than one handshape, without change of meaning).
performance / description
Verbal description of how to perform the sign. Only given, if movie representation appears to be insufficient.
mnemonic aid / folk etymology
other remark
single frame numbers
Distinctive sign phases in stills.
single frames defined yes/no
example sentence indicated yes/no
[example sentence number(s)]
example sentence gloss transcription
example sentence translation (spoken language)
variant / link
type of variant / multiple
variant of performance / form variant / old variant / distinctive dialect variant
video display
The movie is automatically displayed by clicking the button "show sign"
DB QTsteps (single frames) / link
Opens the module for setting the distinctive sign phases in stills.
[DB search / link]
[DB word in]
[DB word out]
Refers to the function in MUDRA that an entered word in the search mode leads to signs which again maybe allocated to other words/meanings each.
[dialects all]
[mouth picture MUDRA storage path]
gloss English
meanings English
comments English
work remarks
editorial checkmarks:

selected for MUDRA 0.9
with icon in MUDRA children's mode
indicating, if the meaning of the sign is also represented by a graphic image/illustration for the MUDRA children's mode.
needed for lesson
example provided
recheck sign
refilm sign (correction necessary)
recorded variants of sign
selected for MUDRA 1.0
selected for MUDRA 2.0
unused
unused
unused

editorial release flag
indicating, if editorial work on the entry is finalized and the overall record is ready to be processed and prepared for transfer into the MUDRA databases.
Mudra_DB_Glosses:
gloss corrected
mouth picture available
mouth picture number
[mouth picture MudraStoragePath]
[DBWOUT]
[DBlanguage]
[DBWsearch]
[DBMNO]
[blank flag]
record number
gloss new
[gloss delimited]
[used_MudraDB]
[error_status]
[gloss_no_input]
[mouth picture available sum]
editorial release flag
Mudra_DB_Meanings:
meanings
[meaningDelimited]
part of speech
record number
[record number mainDB(00)]
[DBGNO]
[DBPRIM]
[DBWIN]
[DBWOUT]
dialects
sign number Mudra
gloss
gloss ID
[blank flag]
MUDRA_DB_examples/instances
record number
[DB sentence]
[DB sentence number]
gloss transcription
translation into spoken language
[MUDRA CD path]
[MUDRA CD name (ID_medium)]
language
language selected
used in Mudra
[video clip number]
[video clip number in Mudra]
[video path]
timecode
Mudra_DB_Persons (Informants and participants of sessions):
To retrace the way, signs and informations about signs have been collocated, and to maintain the integrity of data, various informations about all individuals which are involved in the process of survey, are stored here. This module allows to review, which informants testified a particular sign; Together with the module DB_sessions and the work remarks in DB(00), it is also possible to retrace the procedure and circumstances, that led to the recorded informations and conclusions about a sign. At times questions about certein signs and informations arise and rechecks are required, which happens partly by also contacting informants or participants of those sessions that led to the respective informations.
first name
last name
name total
persons_record_ID_number
hearing/heard of hearing/deaf
One might wonder, why "hearing" is introduced as a field here, but additionally also hearing CODAs or interpreters may be consulted to inform about certain signs, e.g. phrases which - apart from thorough corpus analyses - could otherwise hardly be stimulated and gained by mere prompt of words.
mother_hearing/heard of hearing/deaf
father_hearing/heard of hearing/deaf
profession
custom dialect(s)
birth_date
birth_place
deaf_since
signing_since
ages_residences (moves)
residences_places
residences_regions
schools
place_now
adress_now
fax_now
home_tel/fax_now
remarks_informant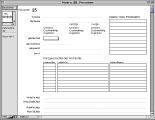 Mudra_DB_Sessions:
Session: Any crucial and recorded meeting with informants. Mostly gatherings of little groups. The first filming/ recording date is also considered as a session (no matter if signs were stimulated by prompts or gained through analyses of signed corpora).
session_ID
Each session is tagged with an identification number.
date_from
date_to
time_from
time_to
task(s)
Description of particular goals/results the session was aiming at. Dominating topics.
mandate_participants
Informants, who were delegated by their regional deaf-associations, or which have been casted as representatives of a particular regional dialect, sociolect or for diachronical reflection.
other participants
Other persons participating in the session or witnessing the session.
place of session
remarks_session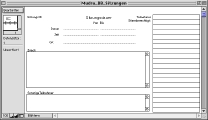 Mudra_DB_QTsteps:
To set and store the crucial single frame stills of each sign, which are used for the printing mode of the MUDRA dictionary.
movie frame (1-8)
end
additional video window
distribute proportionate
end of single frame definition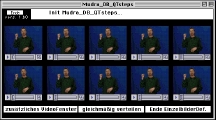 Mudra_DB_Phonological parameters:
Many of the parameters can be checkmarked in multiple ways in the sense of several multiple conditions of one parameter, not excluding each other, since a sign might allow to be be performed in more than one condition of a feature, without change of its meaning.
1 = one-handed or two-handed?
2 = do both hands move?
3 = non-dominant hand/ handshape
4 = non-dominant hand/ class of handshape
5 = non-dominant hand/ orientation (side of the hand)
6 = non-dominant hand/ orientation (palm)
(Dominant hand):
7 = start of sign/ handshape
8 = start of sign/ class of handshape
9 = start of sign/ orientation (side of the hand)
10 = start of sign/ orientation (palm)
11 = start of sign/ starting point
12 = start of sign/ starting zone
13 = start of sign/ contact
14 = course of sign/ type of movement
15 = course of sign/ direction of movement
16 = course of sign/ plane of movement
17 = course of sign/ contact
18 = end of sign/ handshape
19 = end of sign/ class of handshape
20 = end of sign/ orientation (side of the hand)
21 = end of sign/ orientation (palm)
22 = end of sign/ final point
23 = end of sign/ final zone
24 = end of sign/ contact
25 = unused
FEATURE STATES/ PARAMETER ASSIGNMENT:
1 = one-handed or two-handed?
01 = one-handed
02 = two-handed
03 = one-handed and/or two-handed
xx = "?" (not decided)

(if two-handed):

2 = do both hands move?

01 = both hands move
02 = only one hand moves
xx = "?" (not decided)
3 = non-dominant hand/ handshape
01 - 68
xx = "?" (not decided)
4 = non-dominant hand/ class of handshape
01 = flat hand
02 = fist
03 = finger combinations without thumb
04 = thumb-finger-combination
xx = "?" (not decided)
5 = non-dominant hand/ orientation (side of the hand)
01 = towards inside
02 = towards outside
03 = down
04 = up
05 = to front
06 = to back
07 = towards inside / inclined
08 = towards outside / inclined
09 = down / inclined
10 = up / inclined
11 = to front / inclined
12 = to back / inclined
xx = "?" (not decided)
6 = non-dominant hand/ orientation (palm)
01 = towards inside
02 = towards outside
03 = down
04 = up
05 = to front
06 = to back
07 = towards inside / inclined
08 = towards outside / inclined
09 = down / inclined
10 = up / inclined
11 = to front / inclined
12 = to back / inclined
xx = "?" (not decided)
for the dominant hand:
7 = start of sign/ handshape
01-68 (pop-up-chart/multiple choice)
xx = "?" (not decided)
8 = start of sign/ class of handshape
01 = flat hand
02 = fist
03 = finger combinations without thumb
04 = thumb-finger-combination
xx = "?" (not decided)
9 = start of sign/ orientation (side of the hand)
01 = towards inside
02 = towards outside
03 = down
04 = up
05 = to front
06 = to back
07 = towards inside / inclined
08 = towards outside / inclined
09 = down / inclined
10 = up / inclined
11 = to front / inclined
12 = to back / inclined
xx = "?" (not decided)
10 = start of sign/ orientation (palm)
01 = towards inside
02 = towards outside
03 = down
04 = up
05 = to front
06 = to back
07 = towards inside / inclined
08 = towards outside / inclined
09 = down / inclined
10 = up / inclined
11 = to front / inclined
12 = to back / inclined
xx = "?" (not decided)
11 = start of sign/ starting point
01 = above the head
02 = forehead
03 = temple
04 = eyebrow
05 = eye
06 = nose
07 = ear
08 = cheek
09 = mouth
10 = corner of the mouth
11 = chin
12 = below chin
13 = neck
14 = shoulder left
15 = shoulder right
16 = chest left
17 = chest center
18 = chest right
19 = abdomen
20 = hip
21 = upper thigh
22 = upper arm
23 = elbow outside
24 = elbow inside
25 = forearm
26 = side of hand next to wrist
27 = side of hand far from wrist
28 = ball of the thumb/ palm next to wrist
29 = palm
30 = back of the hand
31 = wrist inside (pulse)
32 = wrist outside (back of the hand)
33 = thumb
34 = index finger
35 = middle finger
36 = ring finger
37 = pinky finger
38 = tumb tip
39 = thumb nail
40 = thumb base
41 = thumb side
42 = index finger / tip
43 = index finger / nail
44 = index finger / base
45 = index finger / side
46 = middle finger / tip
47 = middle finger / nail
48 = middle finger / base
49 = middle finger / side
50 = ring finger / tip
51 = ring finger / nail
52 = ring finger / base
53 = ring finger / side
54 = pinky Finger / tip
55 = pinky Finger / nail
56 = pinky Finger / base
57 = pinky Finger / side
xx = "?" (not decided)
12 = start of sign/ Ausführungszone
01 = head
02 = body
03 = hand
04 = leg
05 = neutral space
06 = head side
07 = body / side
08 = hand / side
09 = neutral space / side
xx = "?" (not decided)
13 = start of sign/ contact
01 = contact
02 = proximate (no contact)
xx = "?" (not decided)
14 = course of sign/ type of movement
01 = straight line
02 = bow
03 = circle
04 = spiral / screw
05 = wave
06 = rectangle
07 = triangle
08 = turn on point
09 = single angle
(+) 11 = finger wiggling
(+) 12 = repetition
(+) 13 = opening and closing of the hand
xx = "?" (not decided)
15 = course of sign/ direction of movement
01 = forward
02 = back
03 = up
04 = down
05 = towards right side
06 = towards left side
07 = forward / inclined
08 = back / inclined
09 = up / inclined
10 = down / inclined
11 = towards right side / inclined
12 = towards left side / inclined
xx = "?" (not decided)
16 = course of sign/ plane of movement
01 = vertical
02 = horizontal
03 = inclined
xx = "?" (not decided)
17 = course of sign/ contact: as in 13
18 = end of sign/ handshape: as in 3 and 7
19 = end of sign/ class of handshape: as in 8
20 = end of sign/ orientation (side of the hand): as in 9
21 = end of sign/ orientation (palm): as in 10
22 = end of sign/ final point: as in 11
23 = end of sign/ Ausführungszone: as in 12
24 = end of sign/ contact: as in 13
25 = unused
---